Milo Burcham Photography
Milo's Top 50 of 2014
These images are presented in roughly the chronological order that they were made throughout the
year. As with all my photography, these are the scenes as they looked through my viewfinder; no content,
not a single blade of grass or twig, was digitally added or subtracted.

We kicked off this year in style, watching flying foxes silhouetted against the New Year's fireworks display on the waterfront
of Sydney, Australia. And it only got better from there as we left the city, travelling for 6 weeks, logging over 6000 miles,
driving up and down Australia's east coast and then to the island of Tasmania. A fantastic trip full of spectacular and unique
wildlife. The photos from this trip easily dominate my favorite 50 images of 2014. For anyone considering a trip to
Australia, my advice is simply to go, go now!

The first 3 days of the trip fell in 2013. To see 3 images from the beginning of our Australia trip that made 2013's favorite
list, click here and scroll to the botom of the page.


We looked for camp sites before dark each night, as driving became treacherous with kangaroos crossing roads after sunset.
On the second night of our trip north, I walked less than 50 yards from our camp with a headlamp to find this bushtail possum in
a tree. These marsupials became a common sight on our travels, but beautiful nonetheless.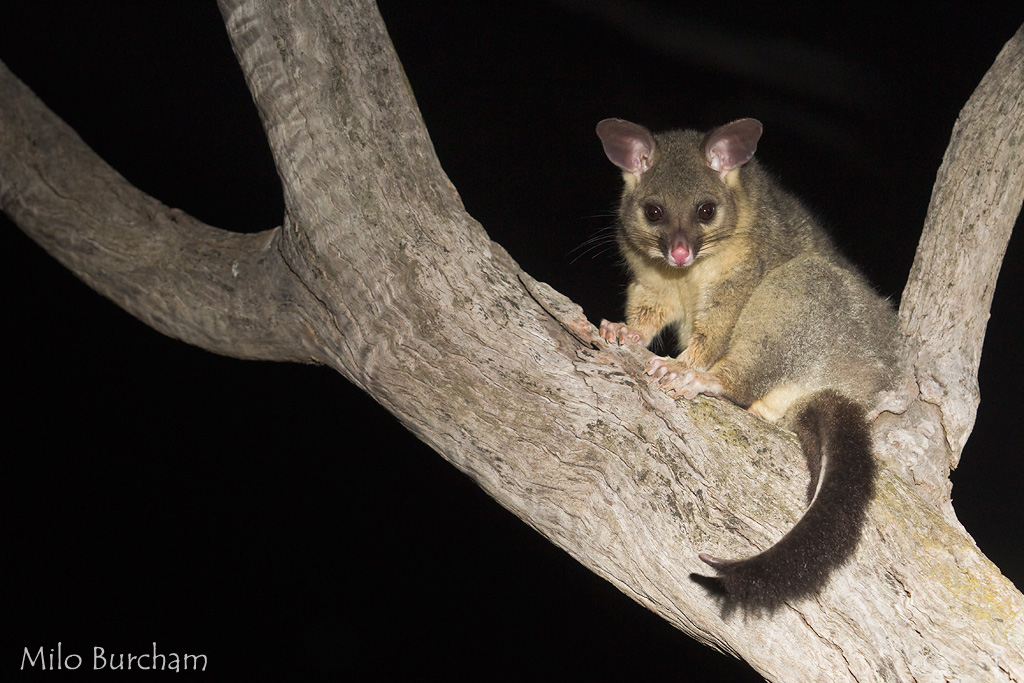 Common Bushtail Possum (M_CBPO_0005)
Amazing wildlife awaited us at every turn. Soon after we started driving on this
morning we encountered a large snake (poisonous, no doubt), our first monitor lizard (over 4 feet long), an Australian bustard
(very large bird with a bizarre mating display), and this bearded dragon which, rather than run when approached, puffed up and
stood its ground looking terrifying. It finally took off and found refuge up under our car and required 30 minutes before we
could find and extract it!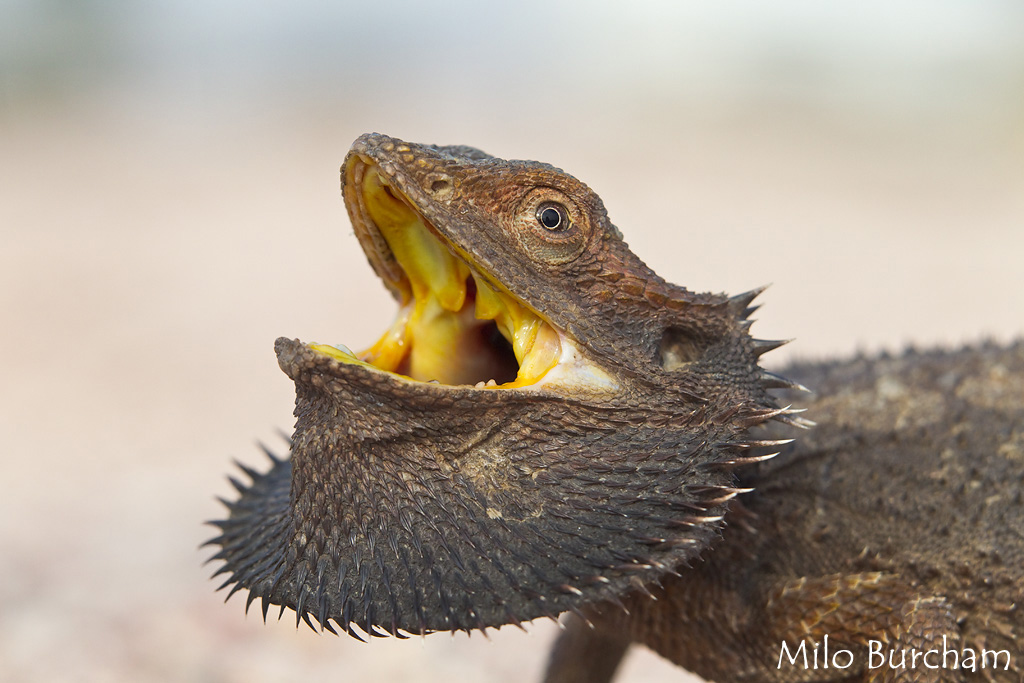 Eastern Bearded Dragon (H_BEDR_0004)
LOL, a mammal that lays eggs???!!! ...OMG! it just kept getting better.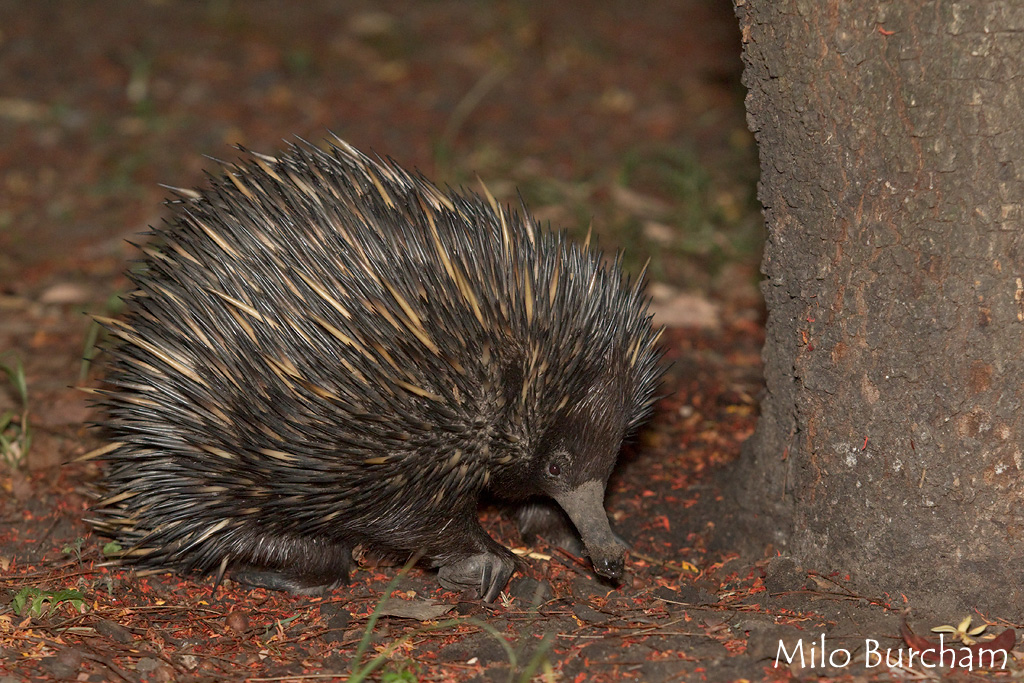 Short-beaked Echidna (M_ECHI_0002)
We then drove into a heat wave, even for this part of Australia. While completely unlike most of my photographs, I really
like this image from a photojournalistic point of view as it captures the relentless blue sky, lonely highway, and displays
the heat in the form of a number on a thermometer and a dripping ice cream bar. The pavement was melting. Really.
It was HOT.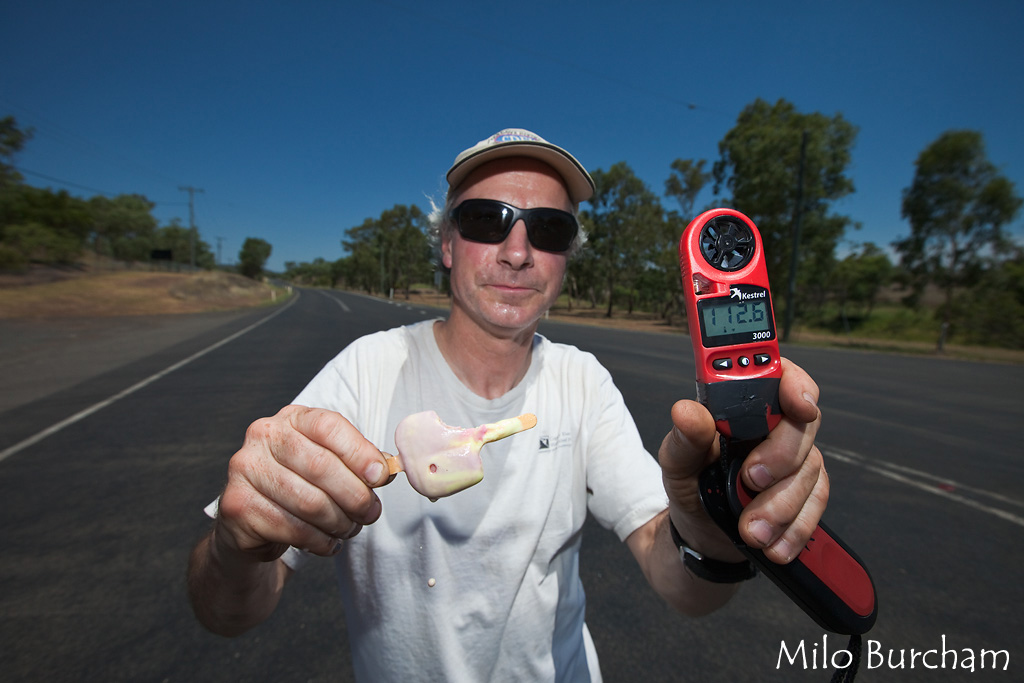 Dana holding thermometer and melting ice cream bar in 112 degree F heat (S_AUST_0043)
The rainforests of northeast Queensland were perhaps my favorite region of the trip. While we saw lots of great wildlife,
nothing was more impressive than the 6 foot tall, prehistoric, flightless bird, the southern cassowary. Unfortunately,
since I do not take underwater photographs, the Great Barrier Reef is not represented here. The snorkeling, however,
was another trip highlight.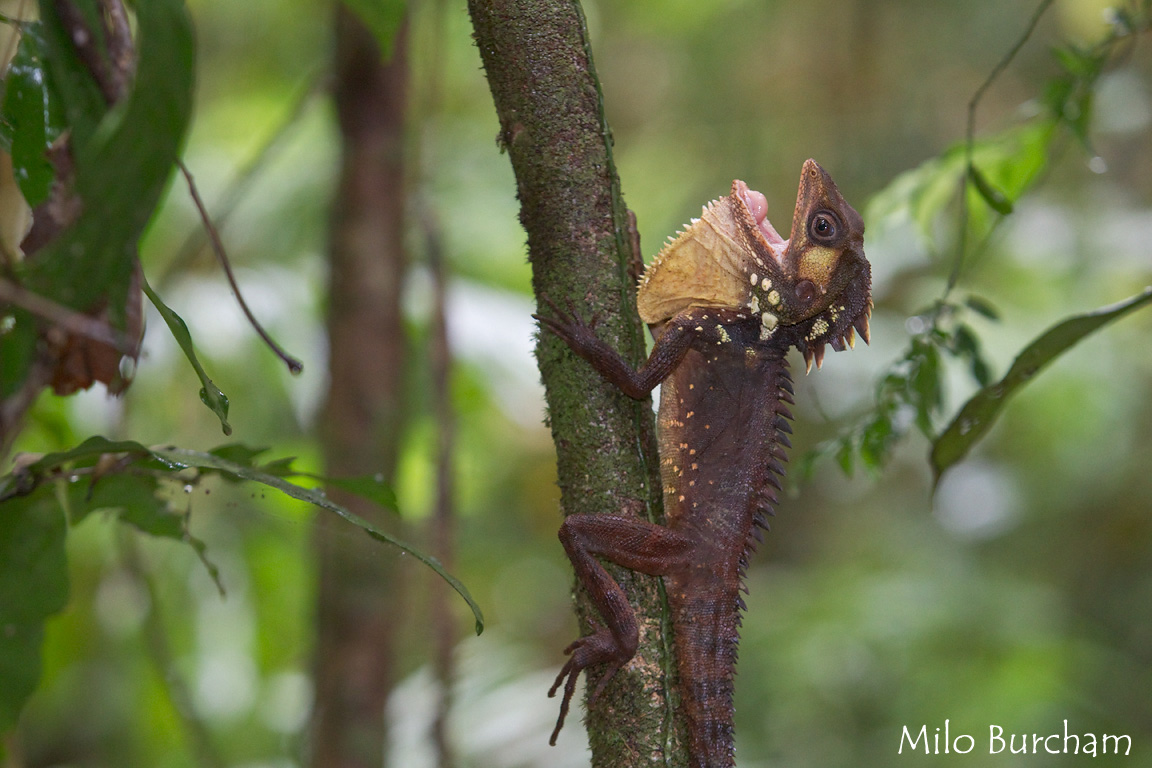 Boyd's Forest Dragon (H_BOFD_0013)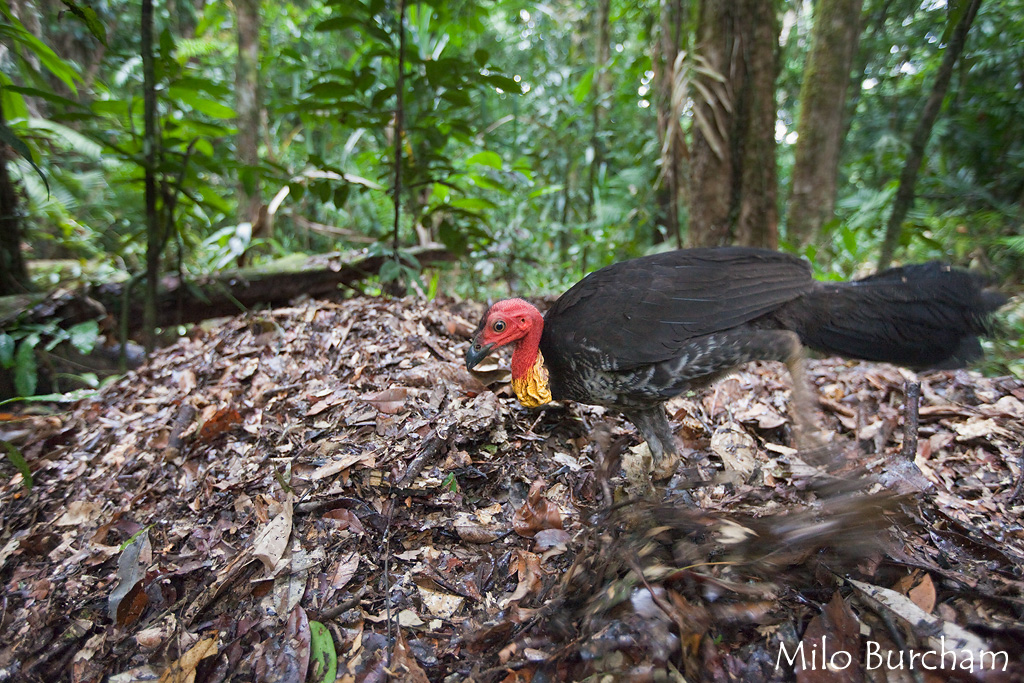 Australian Brush Turkey (B_AUBT_0016)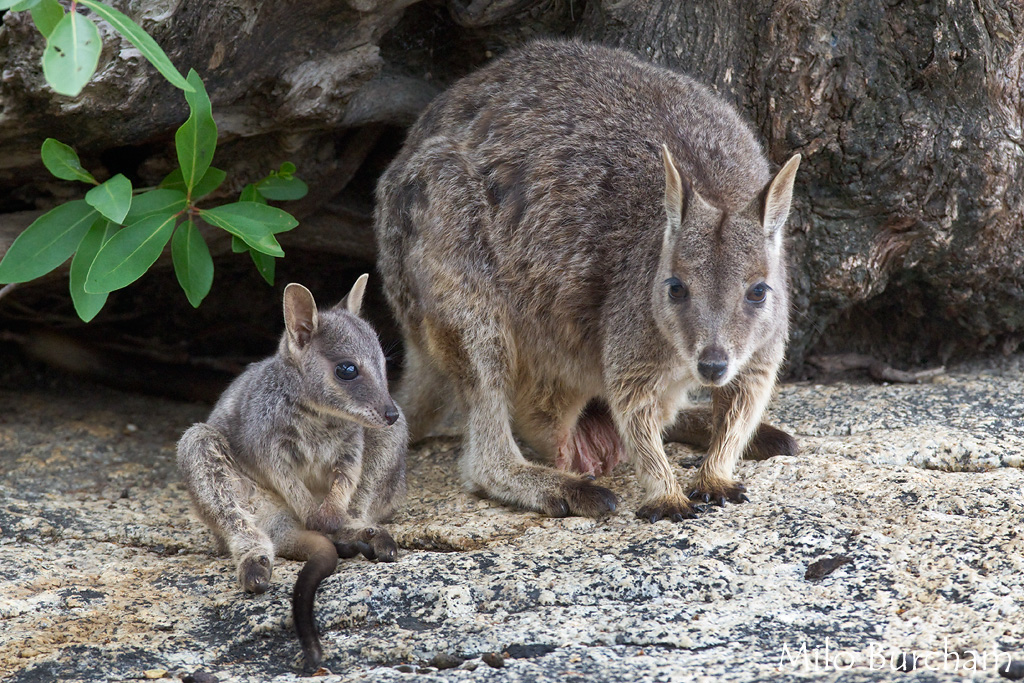 Mareeba Rock Wallaby mother and joey (M_ROWA_0009)
Southern Cassowary (B_CASS_0045)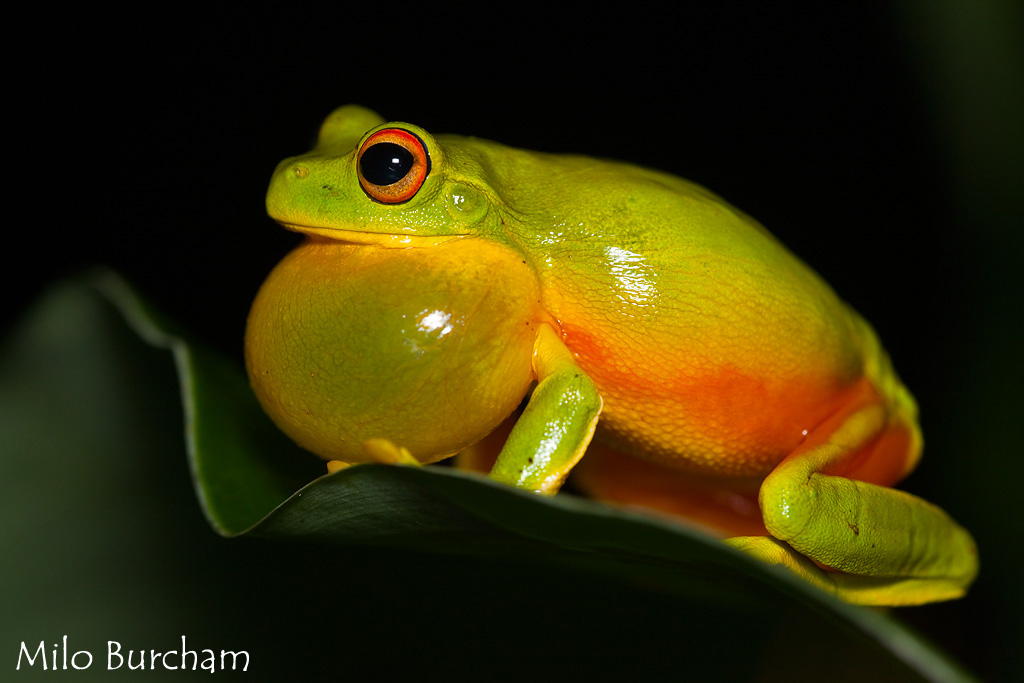 Orange-thighed Tree Frog (H_OTTF_0012)
Paula and I then broke away from our friends and flew to Darwin, just as one of the first cyclones of "the wet" or rainy season
was forming. While I told Paula that it would be really neat to see Kakadu National Park, I tried to hide my real motivation
for travelling to the "Top End" of Australia: to find and photograph a frilled lizard. We met success soon after arriving as
we drove through a groomed city park and Paula thought she saw one of these lizards, only to dismiss it as a paper bag. We could
not believe our eyes as this "bag" got up on its hind legs and ran to a tree. I climbed 15 feet into the tree to capture it
for a photo session. We found another, even more colorful individual (pictured here) the next day.

My favorite image of 2014. What a reptile!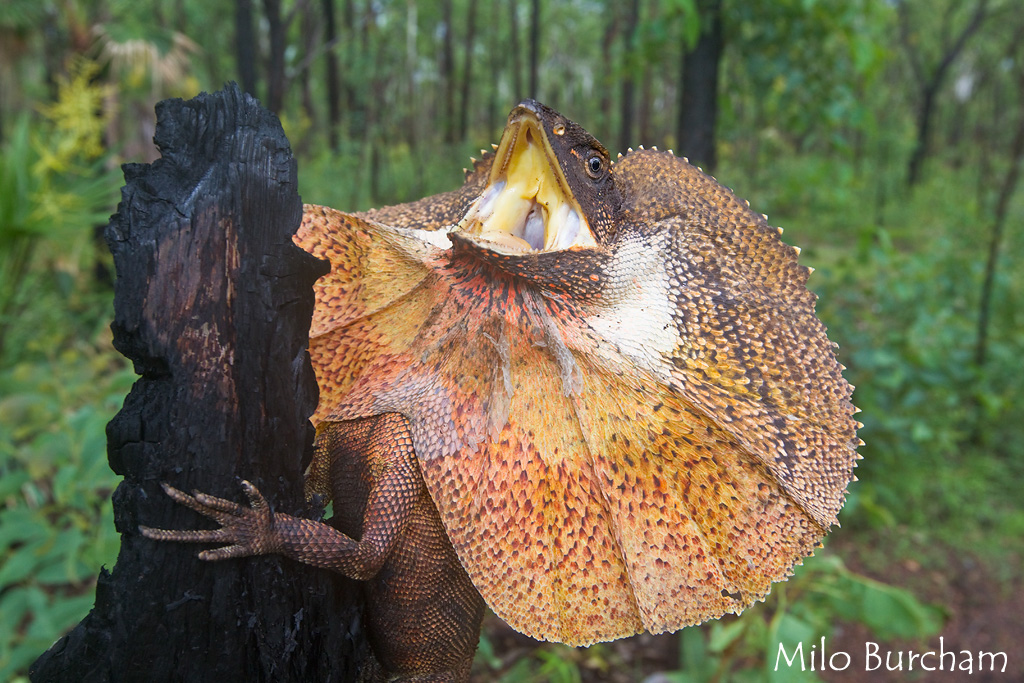 Frilled Lizard (H_FRLI_0023)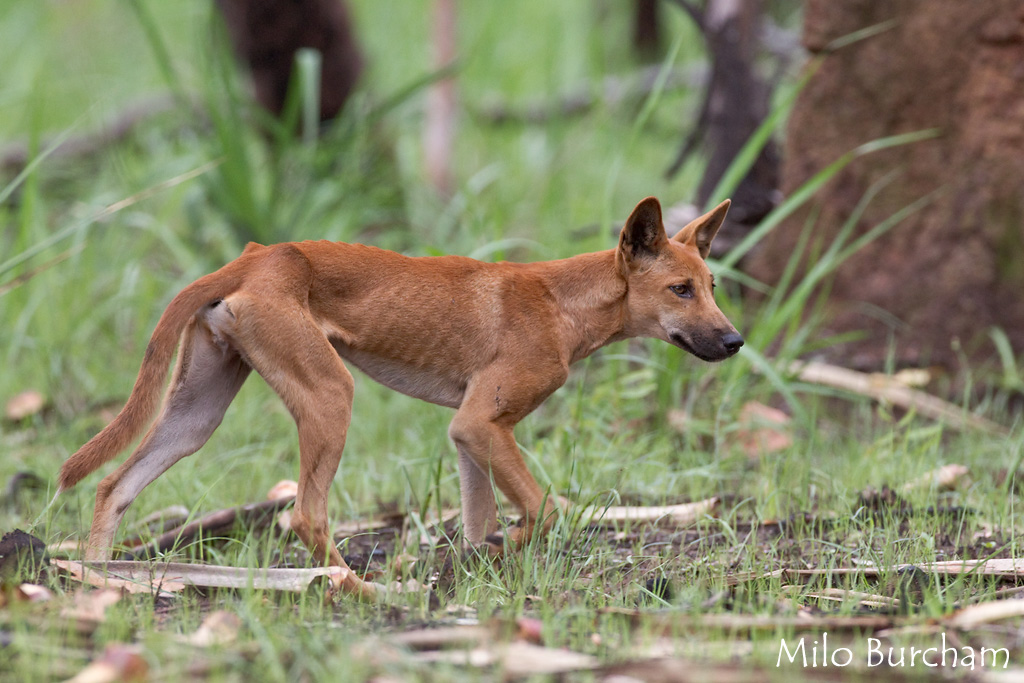 Dingo (M_DING_0003)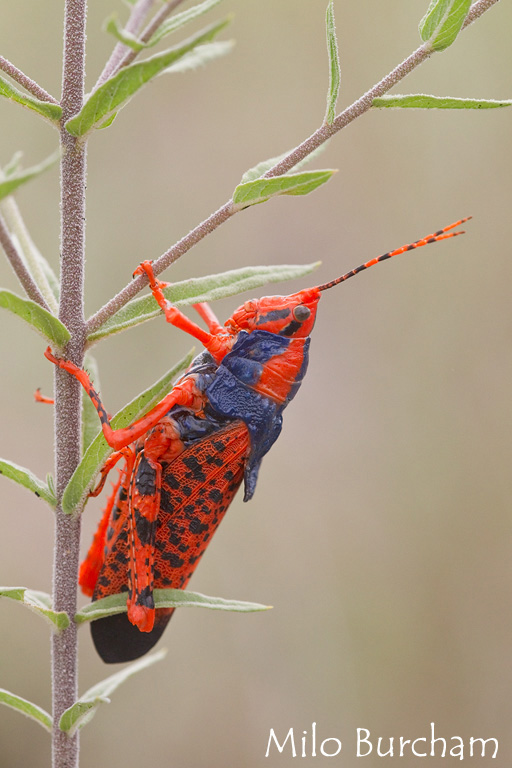 Leichhardt's Grasshopper (I_LIGR_0003_FFSS)
We then flew back to Cairns and started driving south to catch up to the rest
of the group. Some of our favorite locations on our way to Australia's south coast included Lamington,Yuraygir,
and Warrumbungle National Parks and the Whitsunday Islands. We fully realize that these quick stops only scratched the
surface of what eastern Australia has to offer, which only whets our appetite for future visits.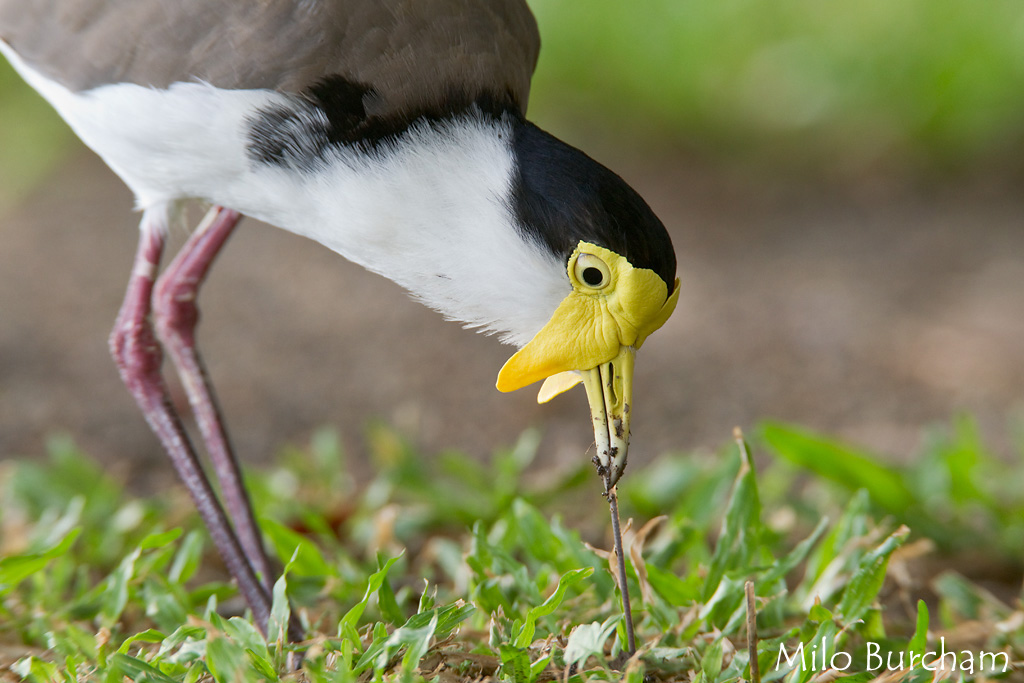 Masked Lapwing pulling worm (B_MALA_0034)
In Lamington National Park of southeast Queensland we found pythons, blue crayfish,
possums galore, and a bower of blue objects collected by the male Satin bowerbird. Most spectacular of all, however, was
the southern leaf-tailed gecko. This species was high on my hit list at the beginning of the trip but I had no luck at finding any
up to this point. Hearing this was a good place to find them, I spent 2 nights walking the trails by headlamp. Seeing none on
the first night, finding one seemed like a daunting task given their near perfect camouflage. A member of an online herpetology
forum had tipped me off to the fact that their eyes glow a dull red by the light of a headlamp and sure enough, on the second
night I found 3 on the very same trails we walked the night before. Go figure.

Southern leaf-tailed gecko (H_LTGE_0044)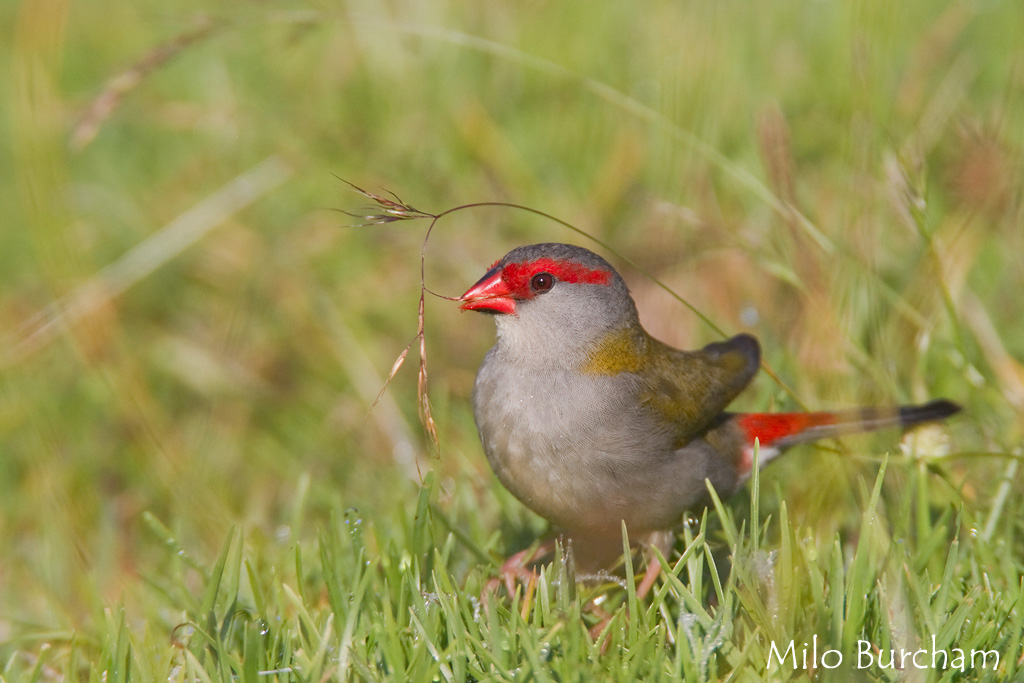 Red-browed Finch (B_RBFI_0001)
We saw flying fox colonies or "camps" in several locations, including downtown Cairns and
in a school yard of Maclean, Queensland. While we thought these colonies were spectacular, especially as thousands of giant bats
took flight at dusk, they were also contoversial. Many locals viewed them with disdain due to the odor of bat guano and potential
for disease. In fact, the city of Cairns has already cut down the trees that flying foxes used as a roost in order to disperse the colony.
Why does this story of humans and wildlife sound so familiar?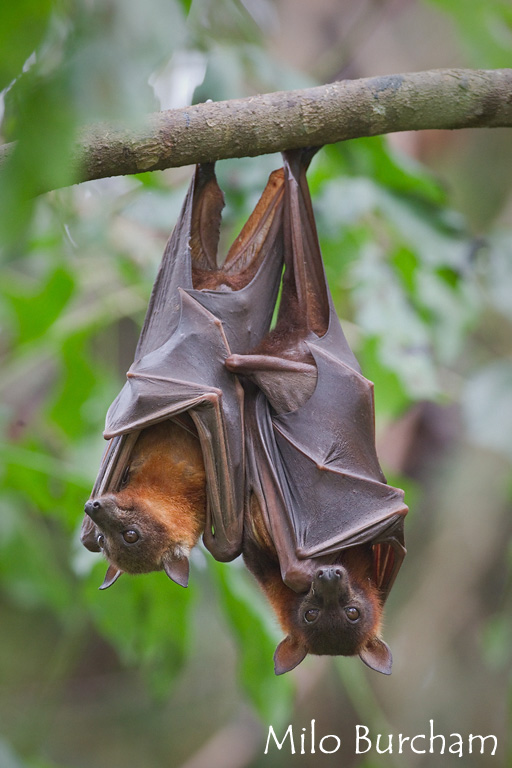 Little Red Flying Foxes (M_LRFF_0014)
Further down the coast we camped 2 nights at Yuraygir National Park. This was kangaroo paradise.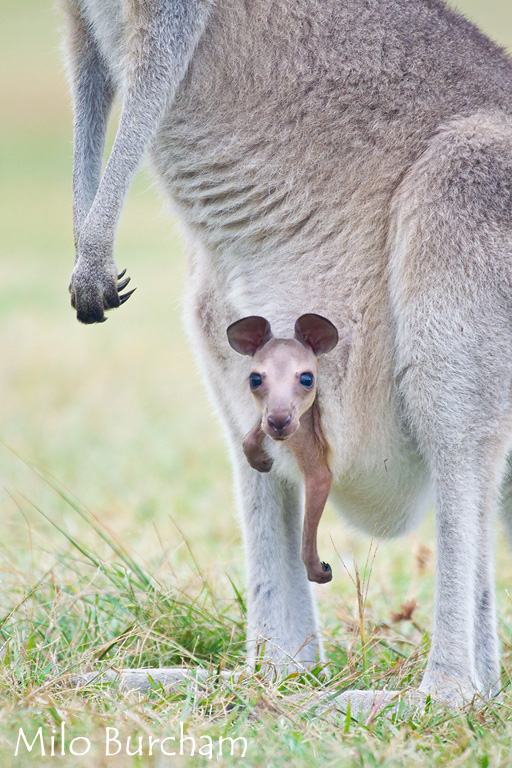 Eastern Gray Kangaroo mother with joey in pouch (M_EGKA_0098)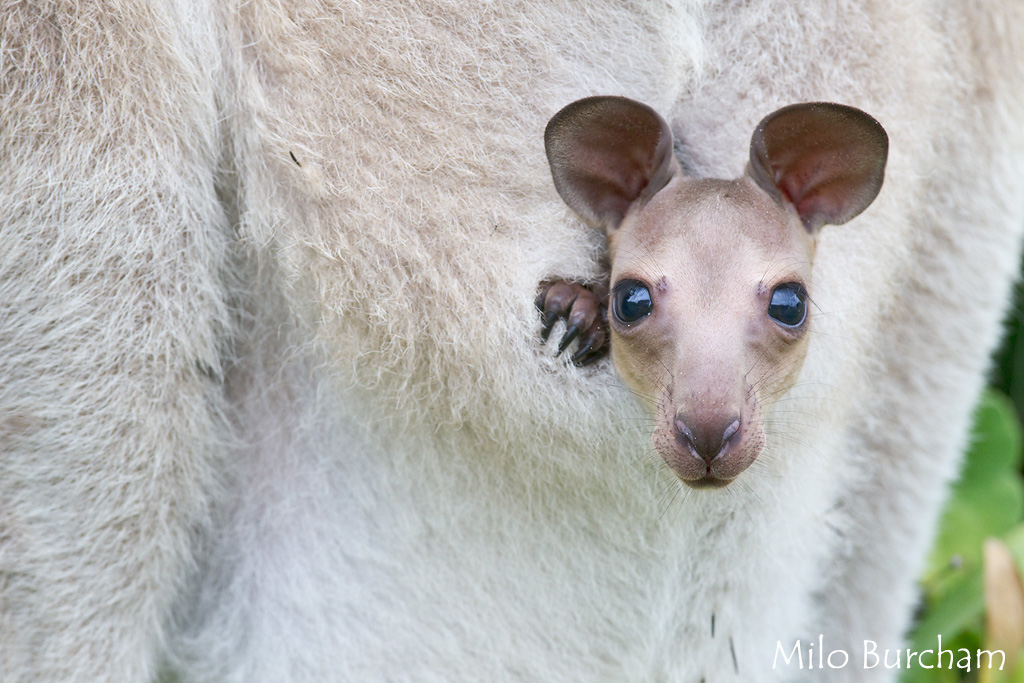 Eastern Gray Kangaroo joey in pouch (M_EGKA_0112)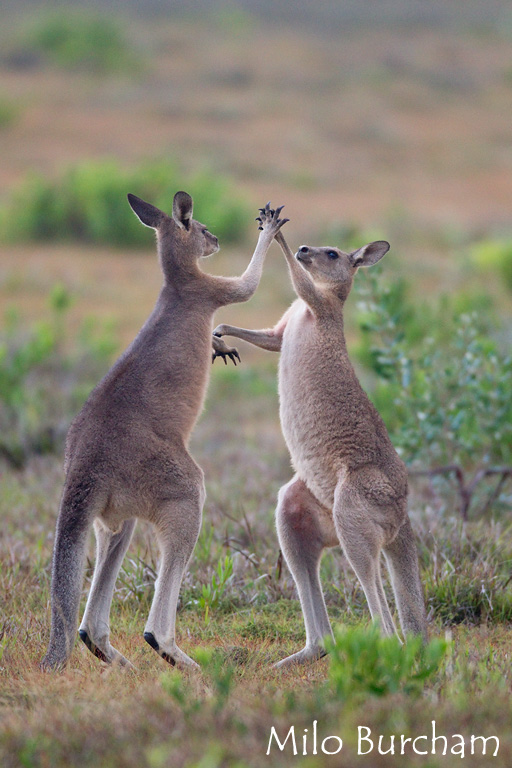 Eastern Gray Kangaroos boxing (M_EGKA_0090)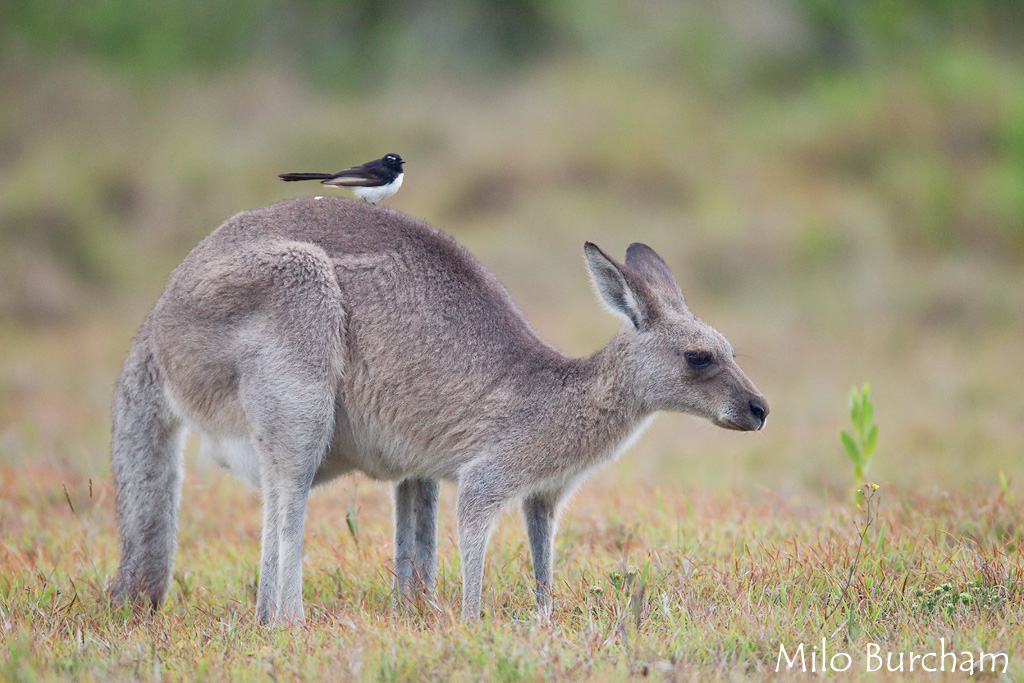 Willie Wagtail fly-catching from back of Eastern gray kangaroo (M_EGKA_0076)
Paula's favorite morning of the trip was waking up to 28 eastern gray kangaroos grazing around our
tent at 5AM, including a little joey who was touching the tent wall. We could see his tiny little hand silhouetted
through the tent fabric.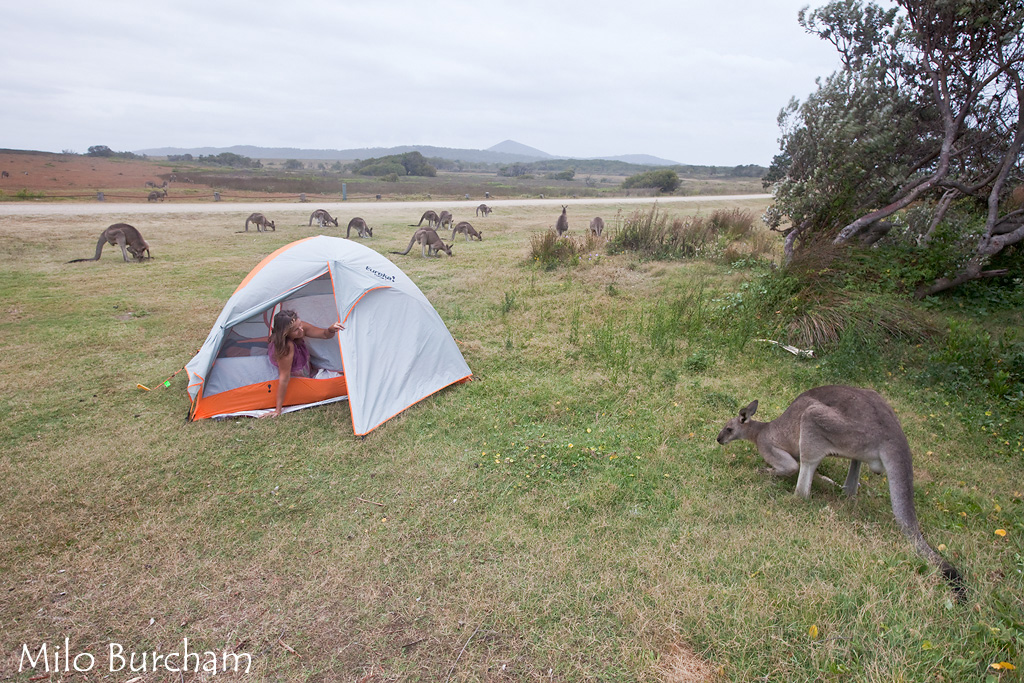 Eastern Gray Kangaroos surrounding tent (M_EGKA_0171)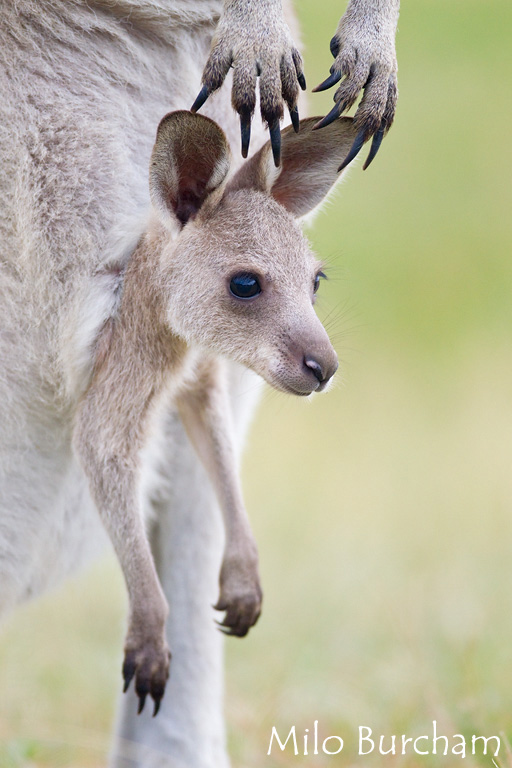 Eastern Gray Kangaroo joey in pouch (M_EGKA_0147)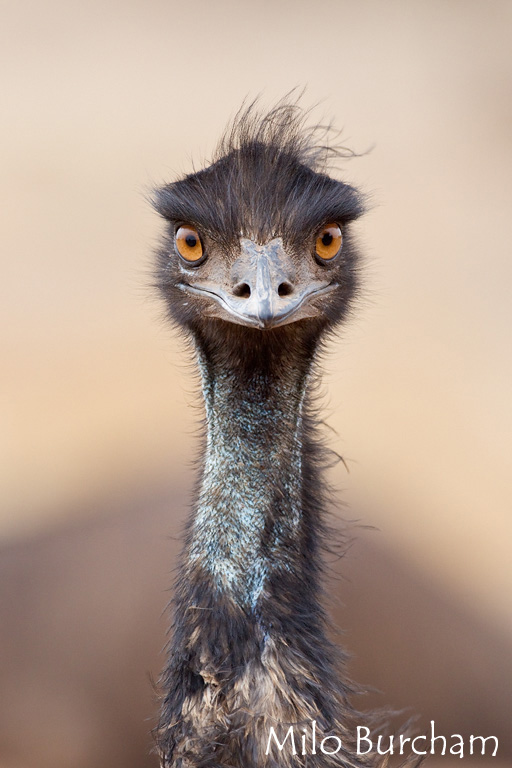 Emu (B_EMUS_0055)
Finally, making it to Australia's south coast, we found koala paradise in Great Otway National
Park, off of Victoria's Great Ocean Road. Could there ever be "too many" Koalas? In this area they were actually defoliating
and killing the trees within large areas of the forest.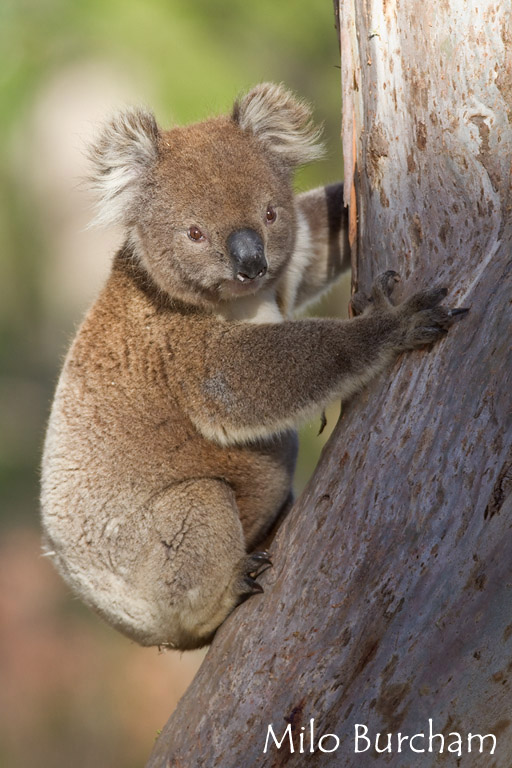 Koala climbing tree (M_KOAL_0016)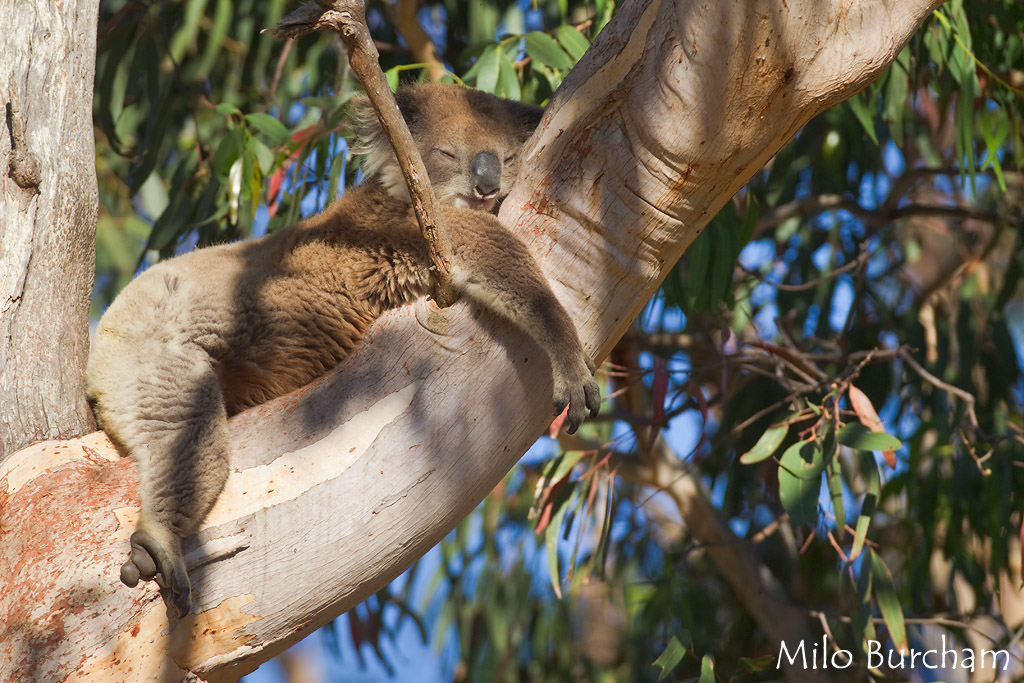 Koala sleeping in tree (M_KOAL_0033)
Next, we loaded our 2 vehicles onto the ocean going ferry to Tasmania where we spent our final week.
Perhaps our favorite part of Tasmania was camping on Maria Island where we hiked and biked our way around the island and
encountered wombats, wallabies, pademelons, penguins, and even the infamous Tasmanian devil. And while my photos of a Tas devil
were nothing special (and do not appear here) seeing one in the wild was! A terrible disease (Devil facial tumor disease)
has infected Tasmania's devil population, reducing the population by 70% since the disease was first observed in 1996.
Maria Island, because of its isolation, has been chosen as a release site for a healthy Tasmanian devil population, hence
our sighting of an individual in the wild. What a thrill.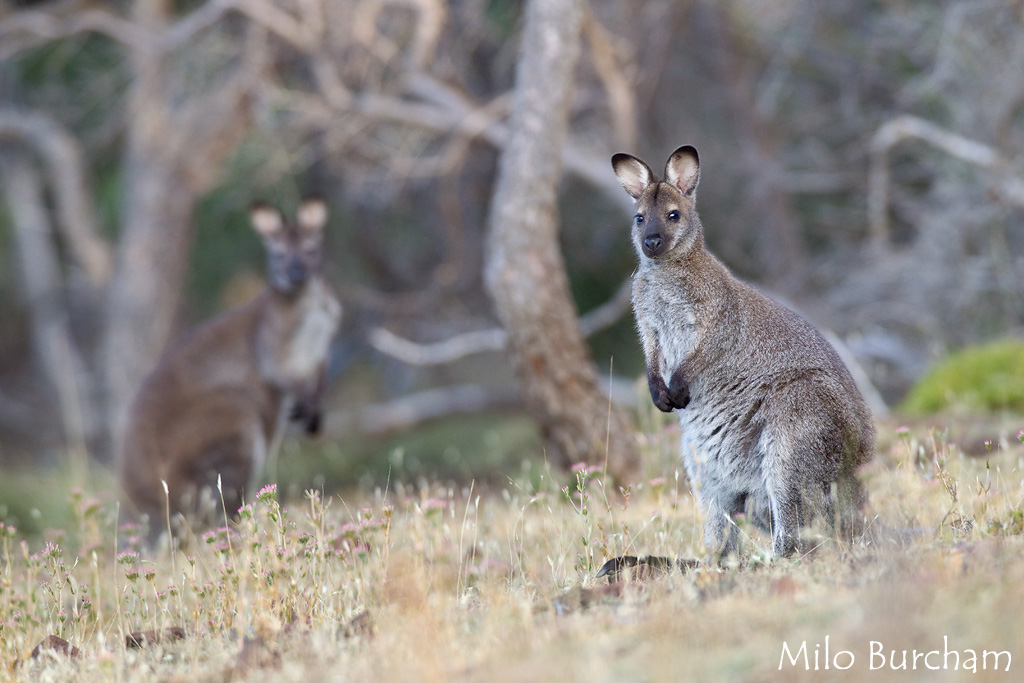 Red-necked (Bennet's) Wallaby (M_RNWA_0006)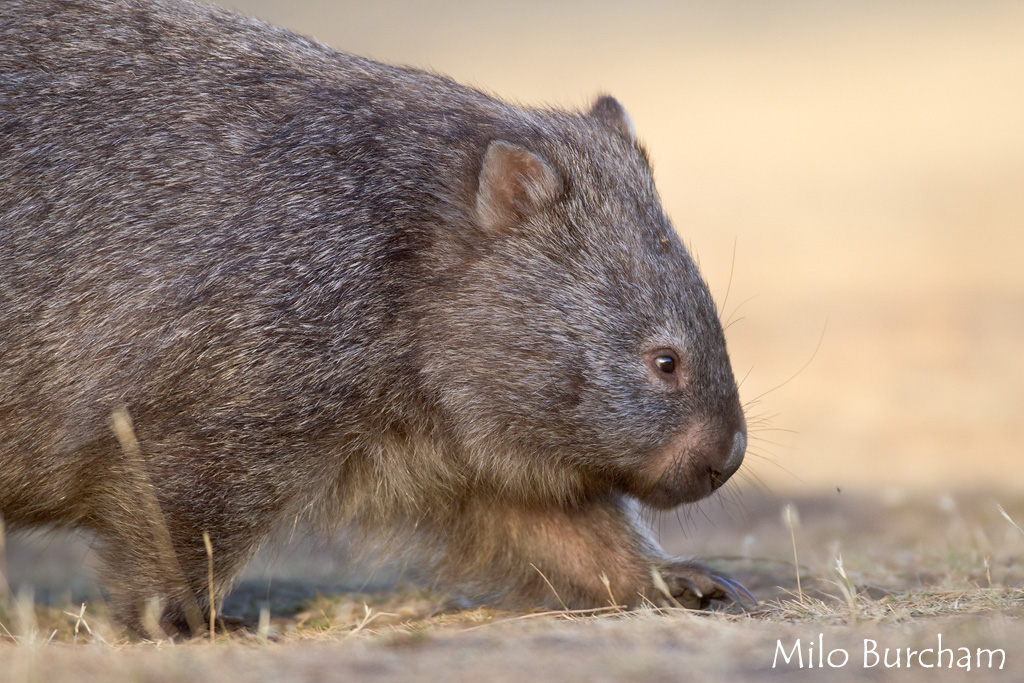 Common (naked-nosed) Wombat (M_WOMB_0005)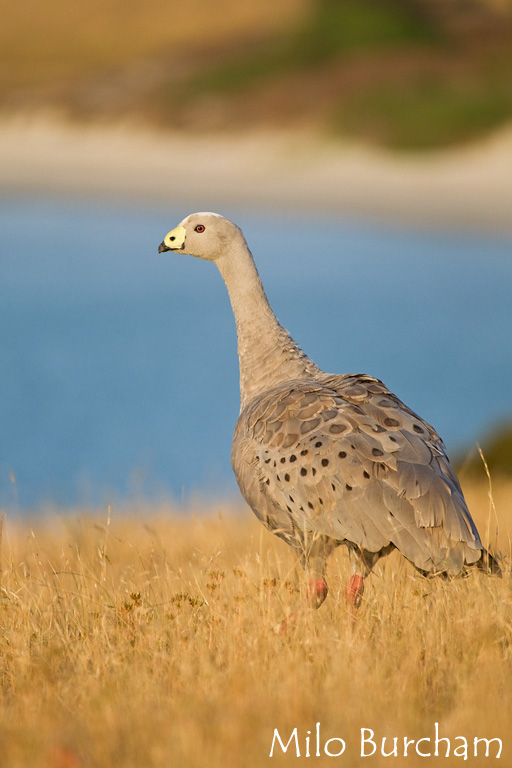 Cape Barren Goose (B_CBGO_0023)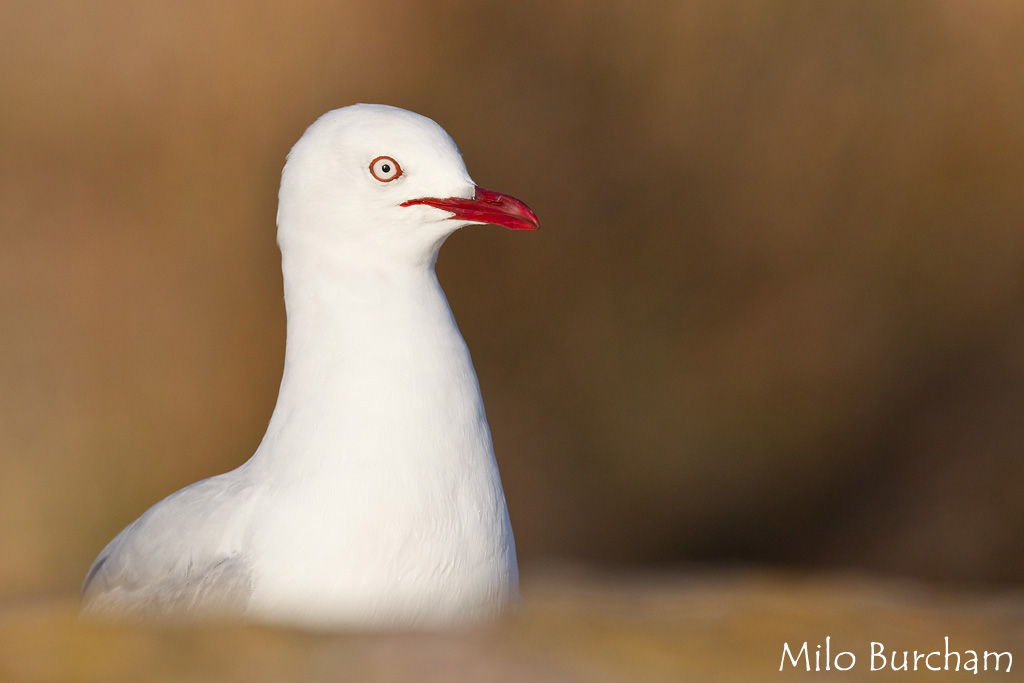 Silver Gull (B_SIGU_0011)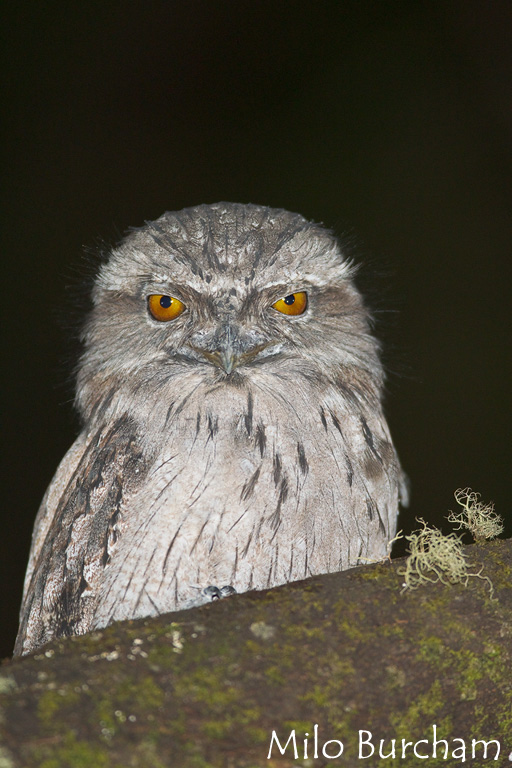 Tawny Frogmouth (B_TAFR_0012)
For our final night in Australia, we camped near the town of Port Arthur where we had seen many nocturnal
marsupials. This bandicoot was one of them and I think I like this mammal's name as much as I like my picture of it!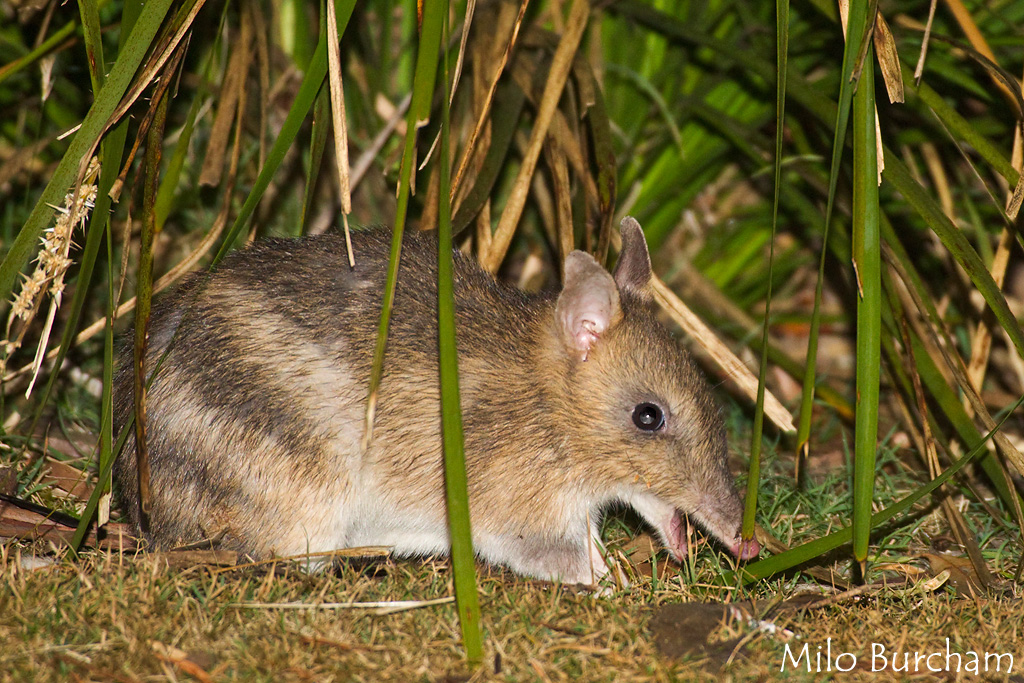 Eastern Barred Bandicoot (M_BAND_0003)
And while it is easy to be swept away by the excitement of exotic locations, we should never tire of the
beauty of our own backyards… that task made easy living in Alaska! The end of winter and beginning of spring were
marked by some of my favorite annual events: the herring spawn in early April and the shorebird migration in early May.
I also never tire of seeing brown bears.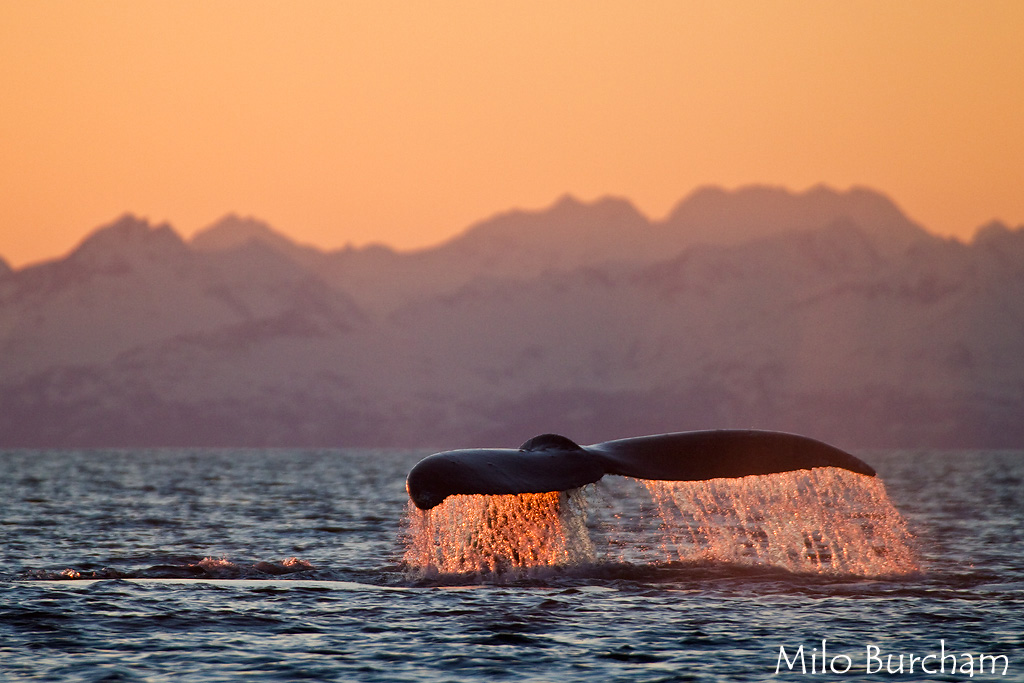 Humpbacked Whale (M_HBWH_0445)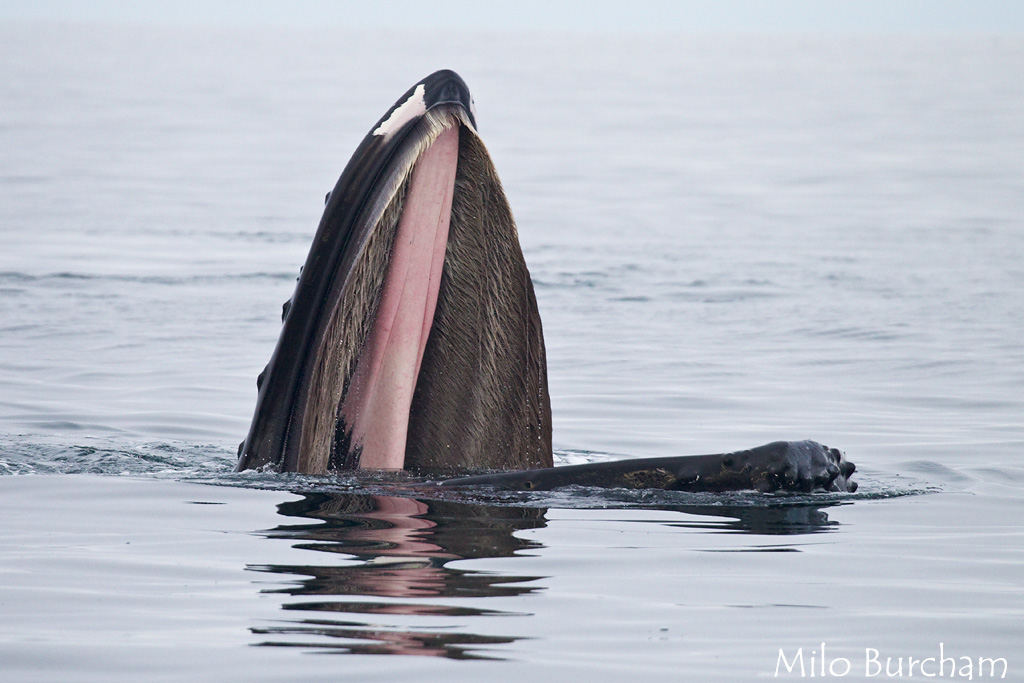 Humpbacked Whale (M_HBWH_0458)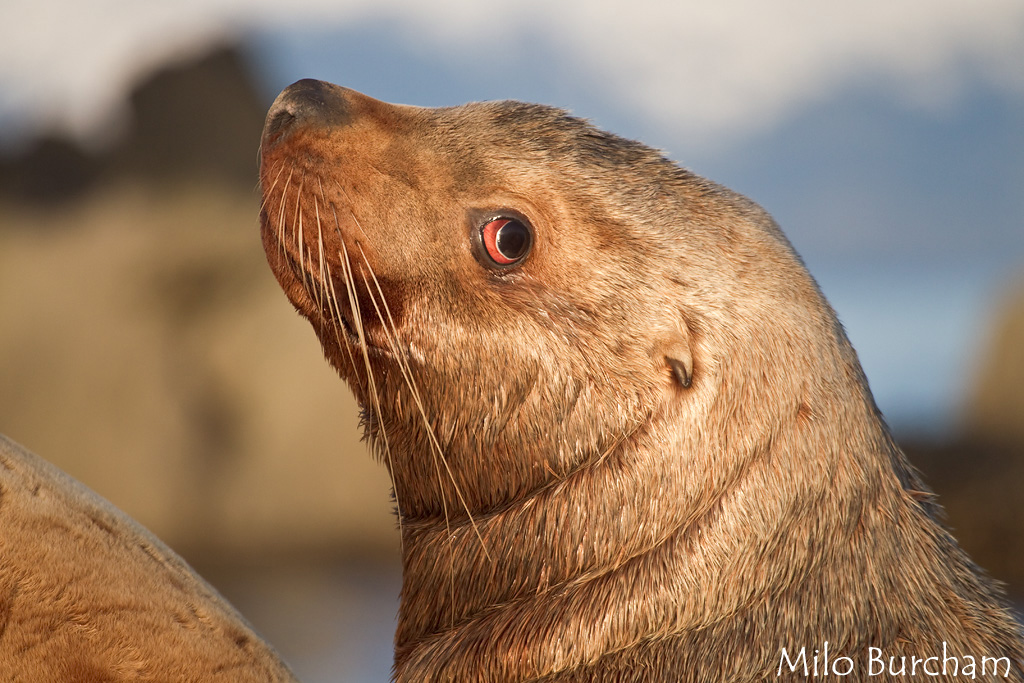 Stellers Sea Lion (M_STSL_0279)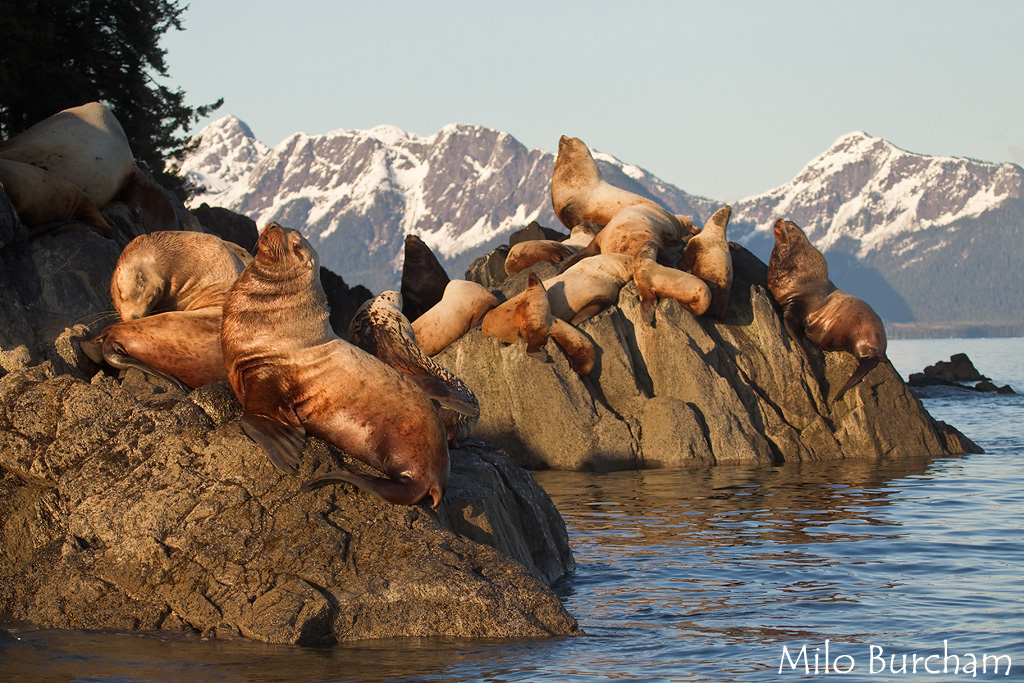 Stellers Sea Lion (M_STSL_0248)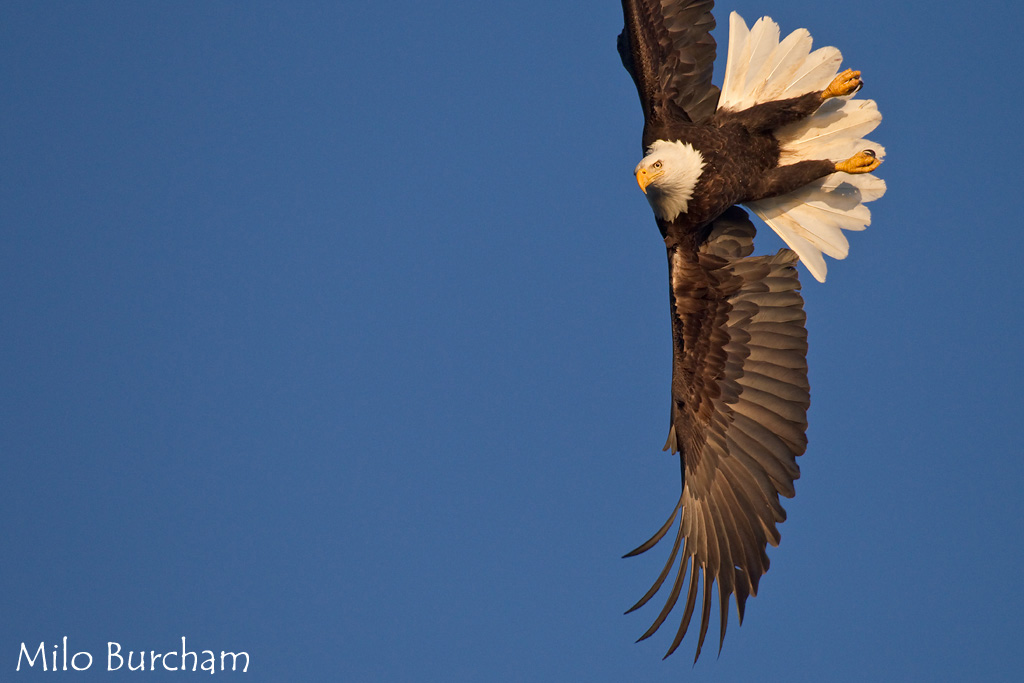 Bald Eagle (B_BAEA_0361)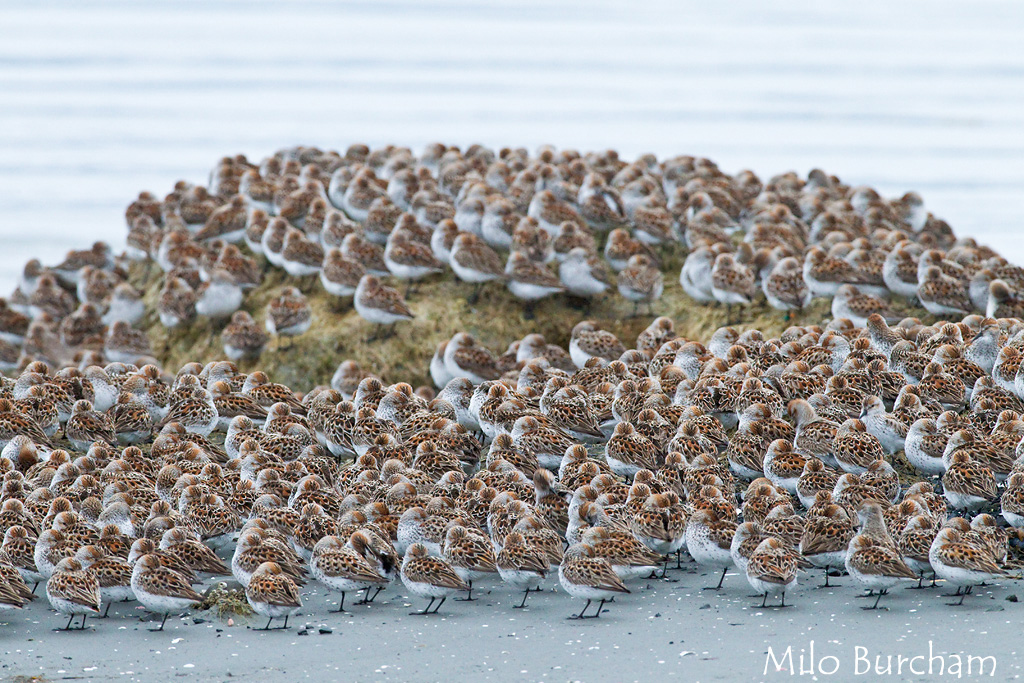 Shorebird flock at Hartney Bay of the Copper River Delta (B_SBFL_0550)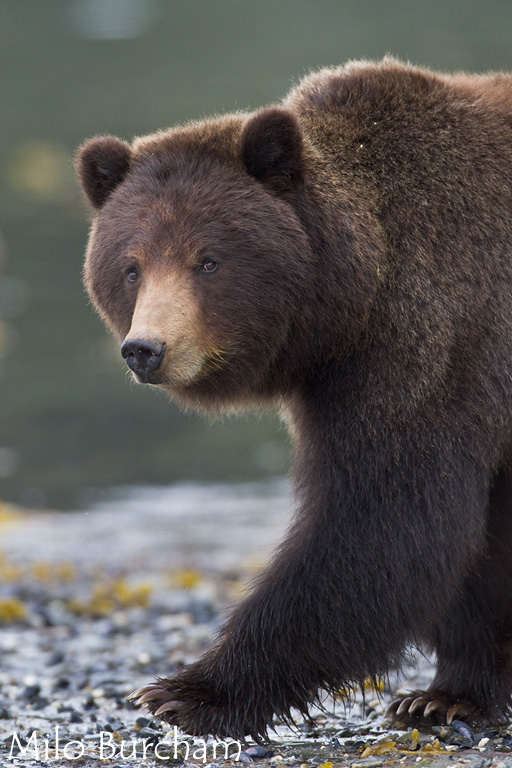 Brown Bear (M_BRBE_0754)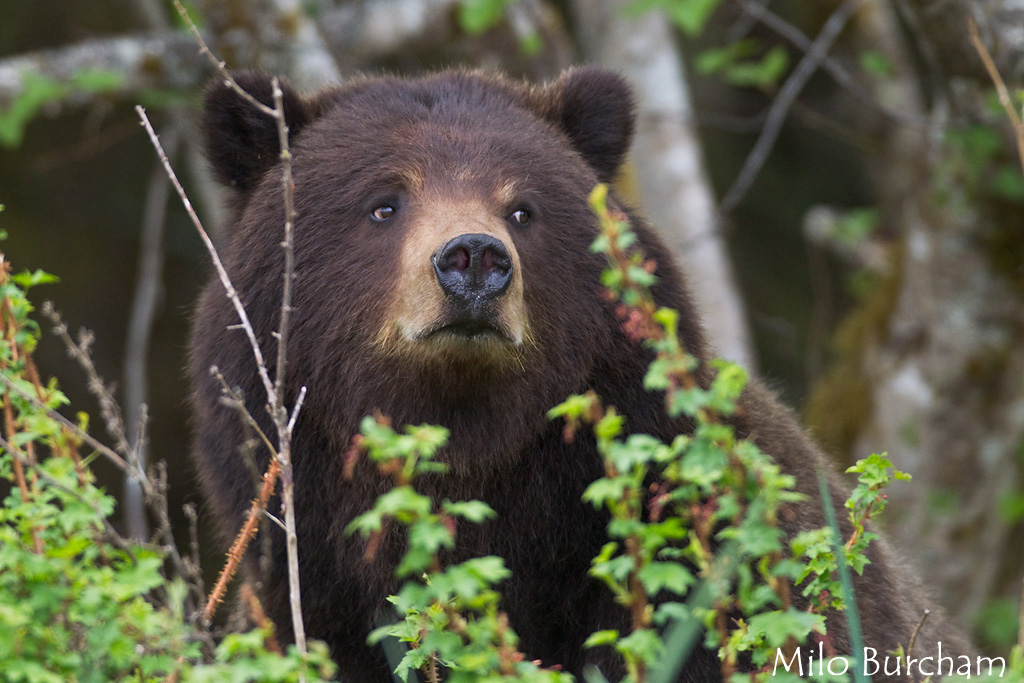 Brown Bear (M_BRBE_0767)
In early June, Paula and I took a trip off of the beaten path to the Yukon-Kuskokwim Delta. We hired a
float plane to take us over 100 miles west of Bethel to these remote wetlands on the edge of the Bering Sea. We camped
for 5 days, hiking and photographing the waterfowl and shorebirds.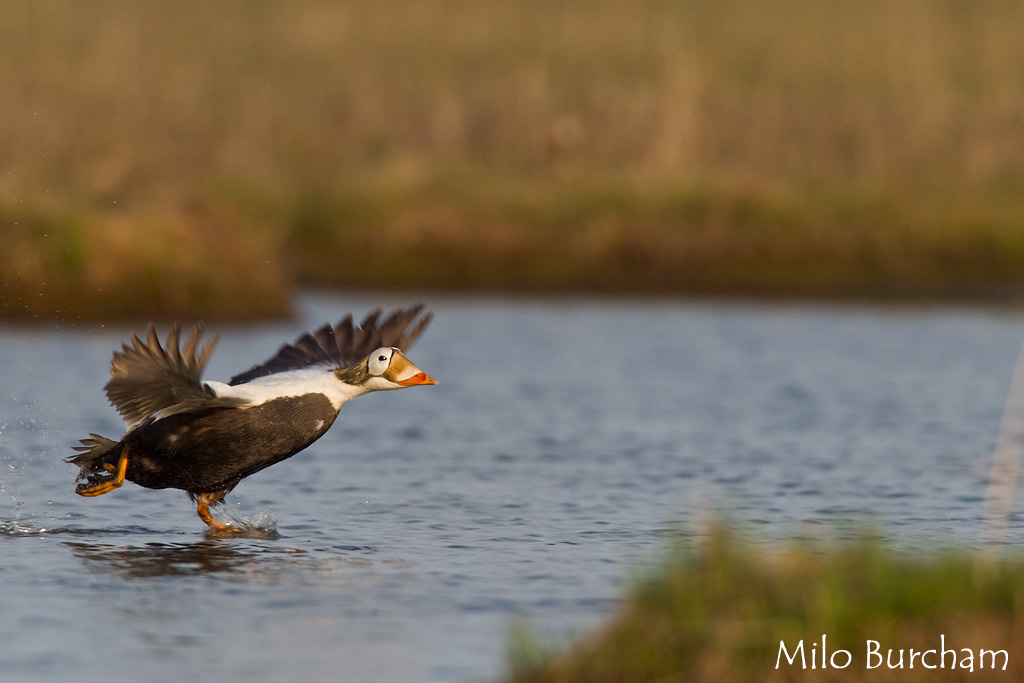 Spectacled Eider (B_SPEI_0136)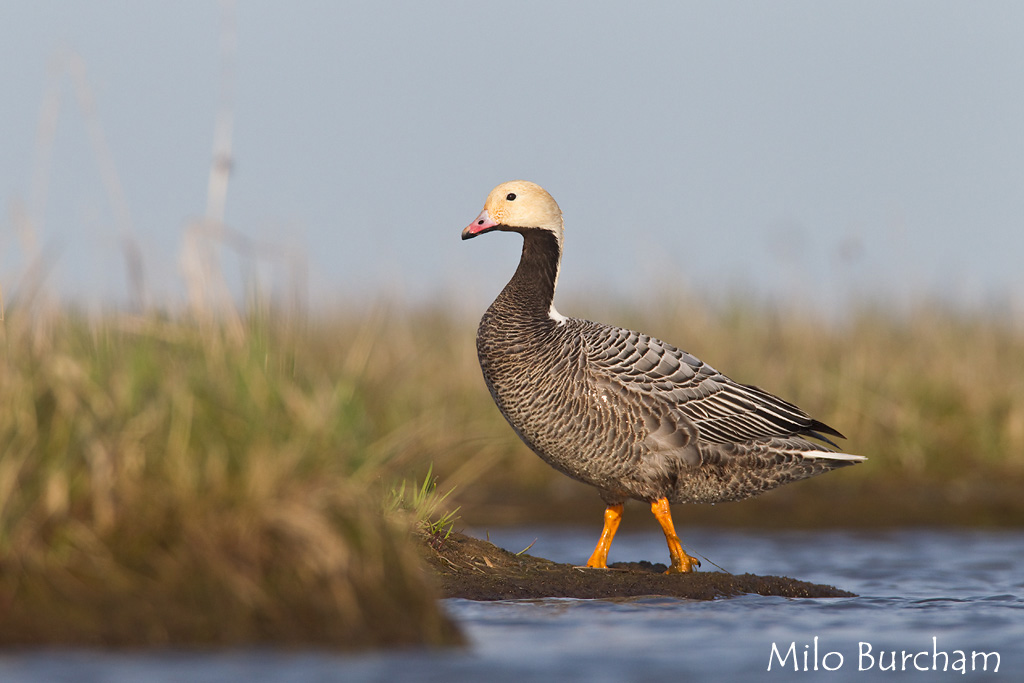 Emperor Goose (B_EMGO_0082)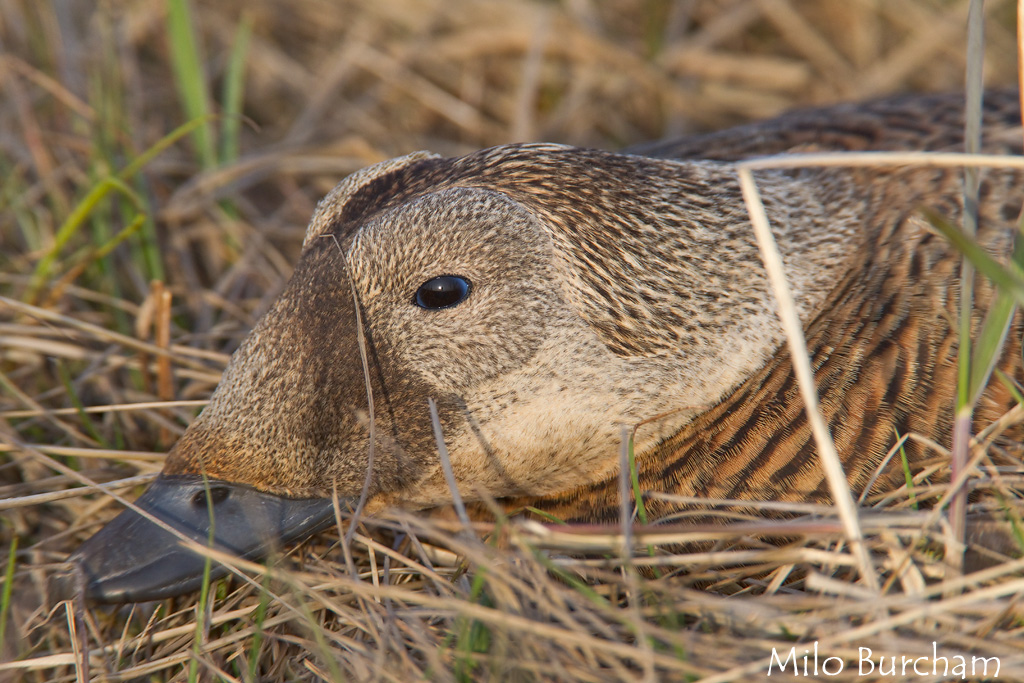 Spectacled Eider hen on nest (B_SPEI_0146)
Sabine's Gull pair (B_SAGU)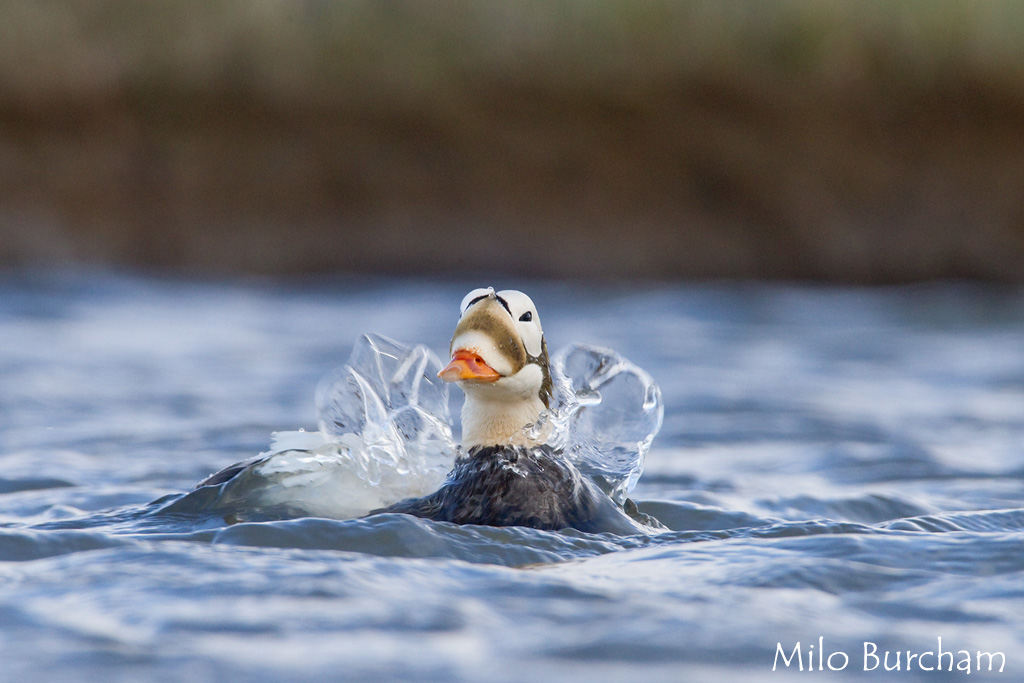 Spectacled Eider (B_SPEI_0061)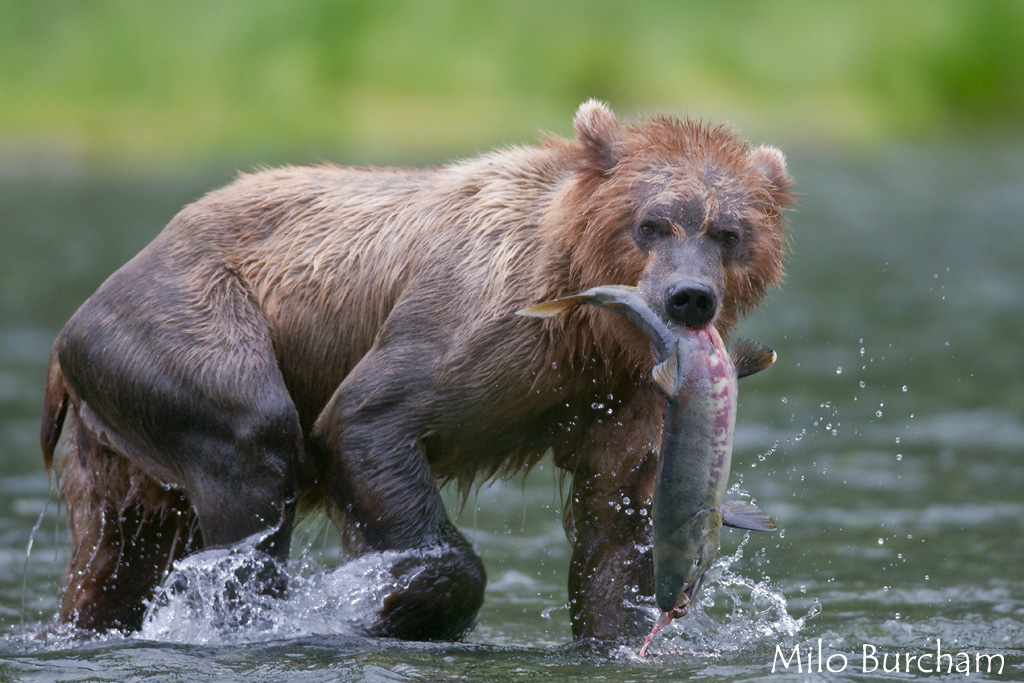 Brown Bear with chum salmon (M_BRBE_0814)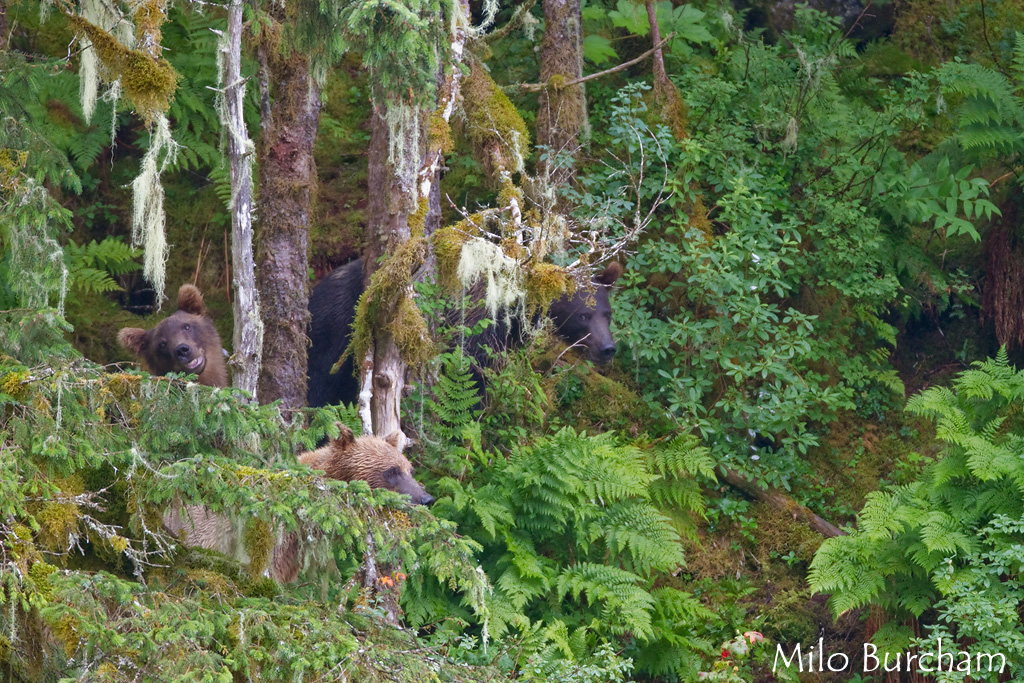 Brown Bear and cubs hiding in rainforest (M_BRBE_0925)
Taking a large bull moose on the 3rd day of the hunting season filled our freezer and "allowed"
me to pursue other fall activities, including photography. I spent 4 days in Denali National Park and many days stalking
Sitka black-tailed deer with a camera on islands in Prince William Sound.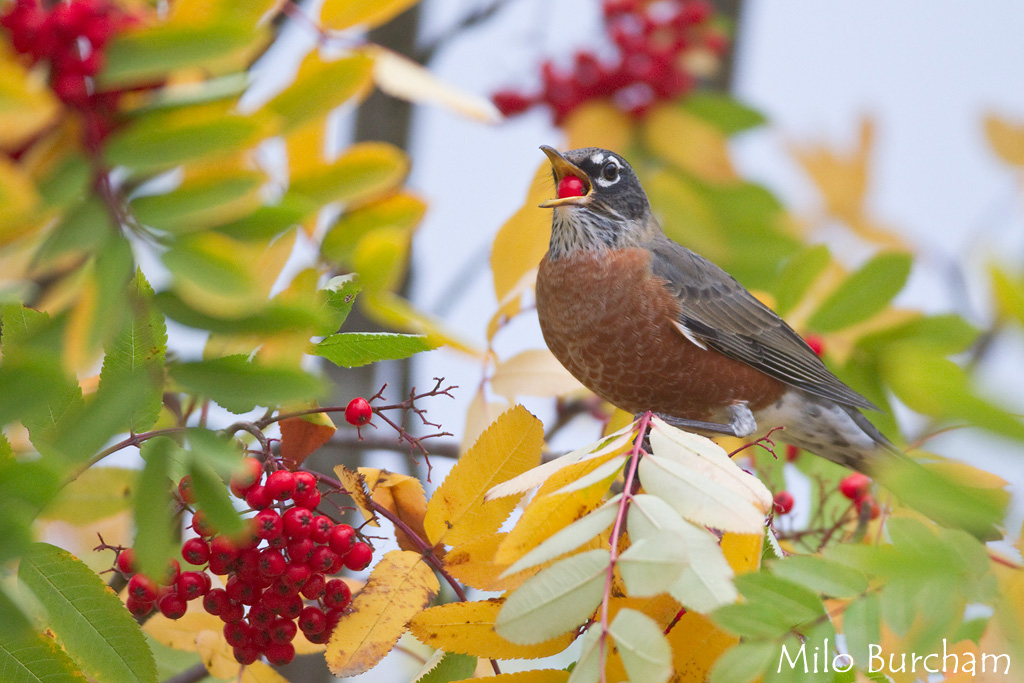 American Robin eating mountain ash berry (B_AMRO_0031)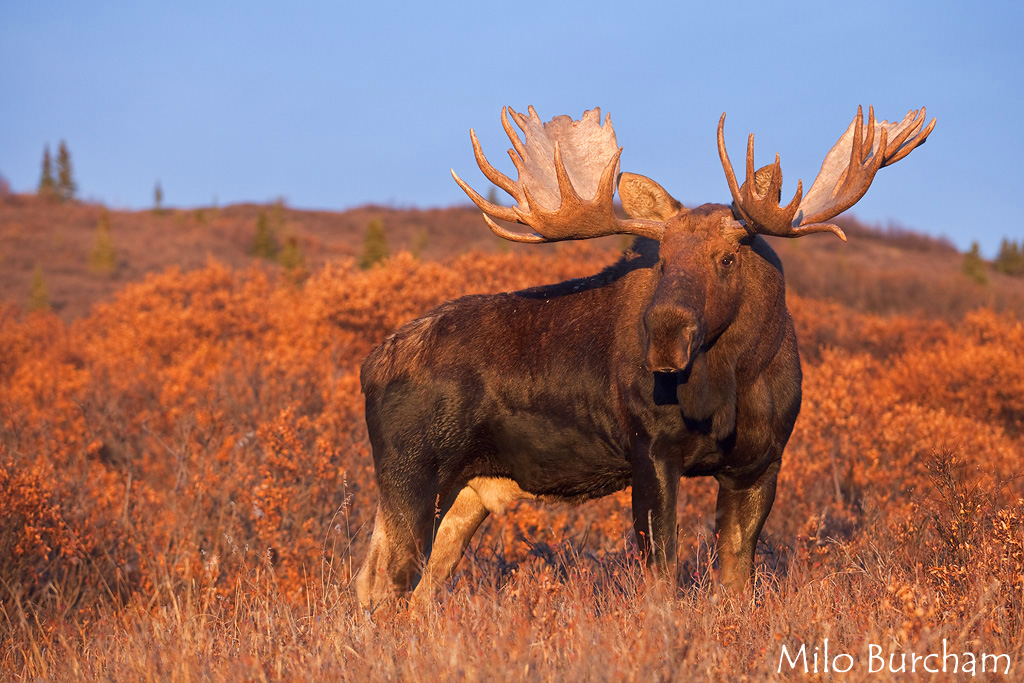 Bull Moose at sunset (M_MOOS_0775)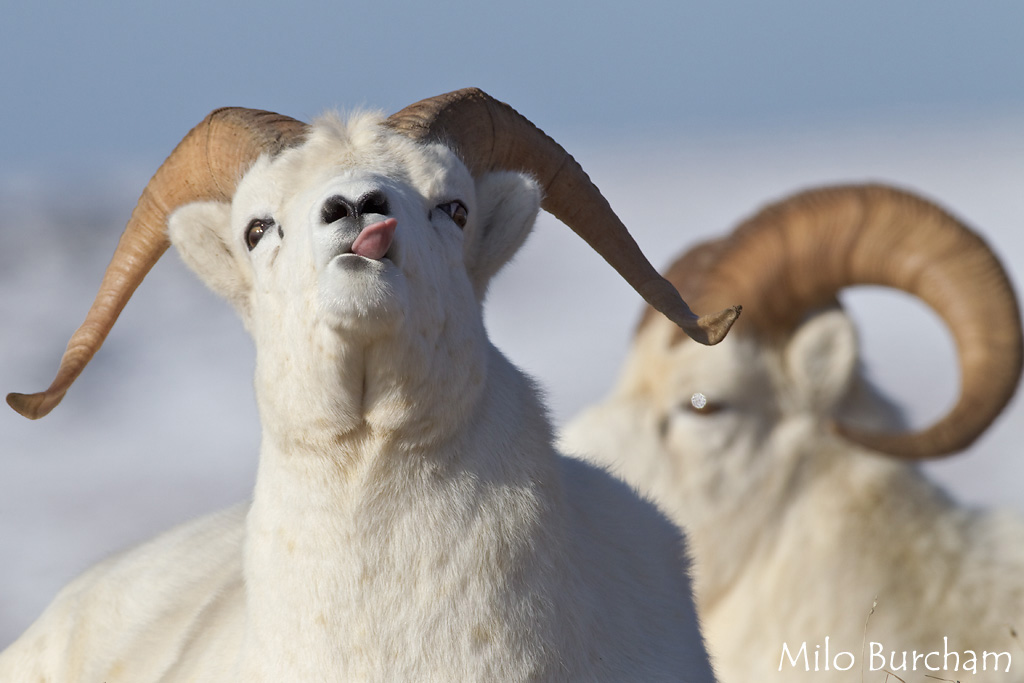 Dall's Sheep rams (M_DASH_0398)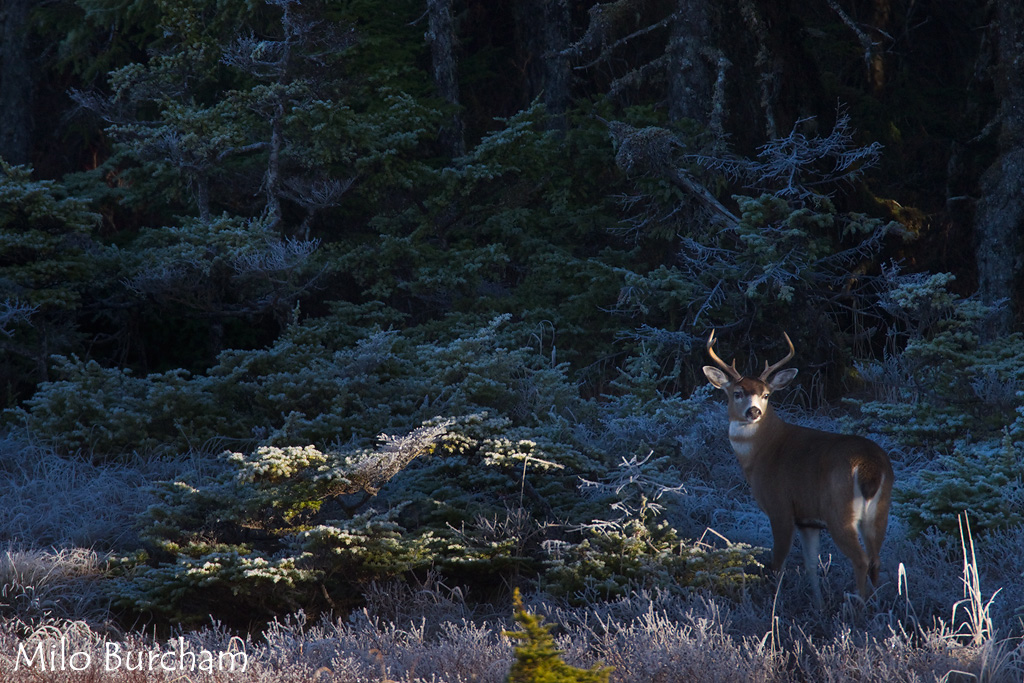 Sitka Black-tailed buck (M_BTDE_0182)
Here's to a fun and productive year in 2015, and to appreciating our own "backyards"!.